Welcome to Your Nutritional Health!
My name is Sylvia Salvendy and I'm a Registered Nutritional Therapist, Health Coach and EFT ("tapping") practitioner based in London and offer face-to-face consultations, as well as via Skype and telephone anywhere in the world.
I help empower men and women to feel their healthiest, happiest self. 
I help empower men and women to take back control over their health to lose weight and keep it off, once and for all- without starvation, deprivation, complicated regimes and faddy diets. Often they either want to prevent potential future health issues or they have decided that things have gone quite far enough and they need to do something about their weight NOW.
I support men and women who struggle with cravings, bingeing and/or emotional eating, who feel embarrassed, self-conscious and unhappy about their body, who don't like how they look in their clothes, who feel disappointed when yet another diet fails them, who blame themselves for being too lazy, "weak" and lacking the willpower, to lose weight and keep it off.
I help you get the right nutrition for your specific needs and create a simple, clear step-by-step plan to create healthy habits and integrate them into your daily life.
Do you have other health niggles or concerns….?
I help men and women who suffer from gastrointestinal discomfort, Interstitial Cystitis /Painful Bladder Syndrome, acne and other skin conditions, feel tired all the time,  are stressed-out, have hormonal imbalances (low testosterone, prostate health, menopausal symptoms, thyroid/adrenals, PCOS, Endometriosis), blood sugar imbalances,  high blood pressure and high cholesterol to take back control over their health and feel their happiest, healthiest self.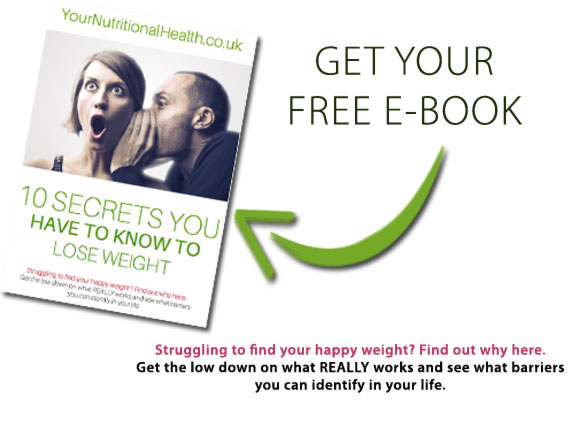 Do you need practical and comprehensive support to stay motivated?

My clients often have busy work and family schedules so need simple and realistic solutions. They are confused about what they need to be doing, don't know where to start, and are looking for step-by-step guidance and comprehensive, versatile support to help them stay motivated, and succeed.

It's all too easy for us to fall victim to procrastination and make excuses for not taking the action we KNOW we need to do to reach our goals and dreams. I can help you overcome psychological barriers to achieving what you want by helping to shift your mindset.

What would your life look like if you had the healthy body you dream of?
Ready to move forwards?!
Does any of the above sound familiar…?
My clients know that I love my work with them and am fully committed to helping them reach their goals. They tell me that I transform their lives- WOULD YOU LIKE TO JOIN THEM? If so, are you ready to start an exciting new chapter in your life?!
Are you ready to learn how you can become slimmer, stay motivated to remain at your optimal weight, and feel more confident and happy about yourself?
Are you ready to skip through your day feeling full of energy, instead of dragging yourself through it?
Are you ready to say "no more" to living with distressing digestive problems on a daily basis?
Are you ready to regain balance in your life and deal with stress in a constructive way- and take back control over it?
Are you ready to be the best version of yourself and feel full of vitality and health?  All in a straightforward, uncomplicated way? And without relying on willpower and discipline?
Are you aware of some of the unexpected additional benefits of weight loss?
Did you know that simple and easy changes to your diet and lifestyle can also help increase your energy, help you feel calmer, less stressed, improve the quality of your sleep and boost your mood?
Were you aware that sexual desire, drive and performance in the bedroom, in both men and women, have been clinically demonstrated to improve after losing weight and making dietary and lifestyle modifications?
Did you realise that having a healthy weight has been shown in studies to reduce employment discrimination against men and women in the workplace?
Are these things important to you?

Do you value having a measure of control over your own well-being? Do you want to be an informed, active participant in the management of your health? Are you eager to sort out your weight so that you can regain your inner balance, discover your full potential and live life to the fullest? In short, do you want to get your zest for life back?
If so, and you're excited to move forwards why not call, text or email me to book a free 30 minute phone/Skype consultation? You'll be able to tell me about your current situation and where you would like to be, and I'll explain how I can help you. We can then see if we're a good fit. If we aren't a perfect fit, no problem- I will also be happy to share other resources to help you get what you need. I love the work I do with my clients and they often tell me it's life-transforming!
Mobile: 07812 163 324      Email: info@yournutritionalhealth.co.uk
Locations
Nutrition Clinics are based in Marylebone/Baker Street (NW1), The City (EC2) and Canary Wharf (E14).

Save

Copyright secured by Digiprove © 2012-2013 Sylvia Salvendy