This is a really easy and quick pan cooked pizza which you can personalise with your favourite flavourings and toppings. Using coconut flour keeps the base gluten free. If you want the whole recipe to be paleo omit the cheese. For those who are dairy free you could always use a dairy free cheese.
Coconut flour is high in fibre, protein and healthy fats and is free from wheat and other grains. It also has a low glycaemic index meaning it won't disrupt blood sugar levels too much. A great alternative in breads and baking to regular flours.
Ingredients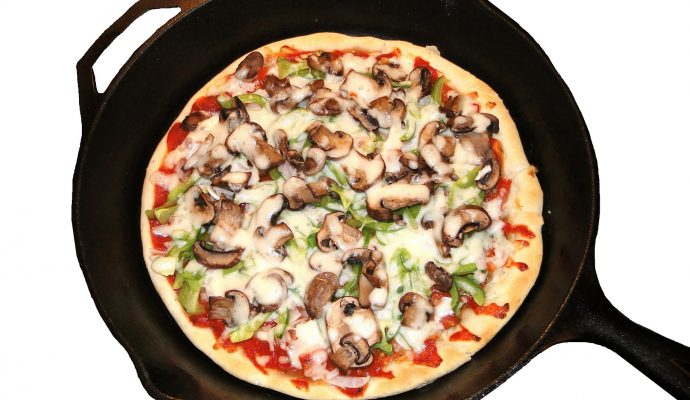 2 eggs
1 egg white
Flavourings – garlic salt, onion powder, dried basil or parsley etc
2tbsp coconut flour
1tbsp olive oil
Toppings: tomato passata with added dried herbs, spring onions, mushrooms, olives, spicy red pepper flakes, grated cheese etc
Method
Whisk together the eggs and egg white with the spices and herbs.
Tip in the coconut flour and olive oil and whisk to form a smooth thick batter. It should be quite thick – if your eggs are very small then you made need to add a splash of almond/coconut milk to the batter
Heat a little olive oil in a frying pan. When hot pour in the batter and use the back of a spoon to form a circle. Place a lid over the pan and allow the batter to cook for a couple of minutes until the sides turn golden brown.
Carefully flip over the base and cook for a further minute.
Preheat your grill to high
Scatter over your toppings and place under the grill for a couple of minutes until golden.
Did You Know?
You can use the same recipe for the base to make a sweet flatbread – add a little xylitol and cinnamon to the mixture.
Recipe courtesy of Christine Bailey