Radishes are in season right now and they add a lovely punchy feel to meals. This is a really unusual and wonderfully refreshing summer soup that makes use of the radish leaves as well as the roots. Rocket or watercress can stand in for leafless radishes, don't worry.  Although they are a root vegetable, they have very little of the starch of things like potatoes and other root veg, making them a great addition to a low GL, low carb diet that will keep your weight and energy levels balanced.
Serves 4 as a starter.
Ingredients
About 20 radishes and their leaves (or 20 radishes plus two good handfuls of rocket or watercress)
12 mint leaves, plus extra to serve
250ml vegetable stock, chilled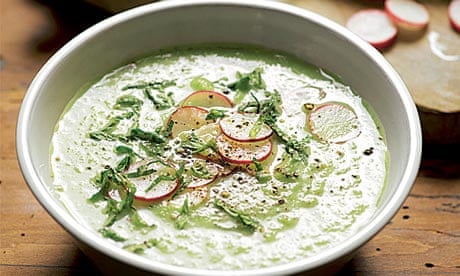 1 small dessert apple, peeled, cored and diced
2 tbsp creme fraiche
1 pinch cayenne pepper
Sea salt and freshly ground black pepper
Method
Set aside two of the radishes. Bring a large pan of salted water to a boil, plunge in the radishes, their leaves (or the rocket or watercress) and the mint, cook for just a minute, then drain. Refresh immediately by plunging them into a bowl of cold water, or running them under the cold tap in a colander.
Put the blanched radishes, leaves and mint in a food processor with the stock, apple, creme fraiche, cayenne and some salt and pepper. Blend until smooth. Taste, add more salt and pepper as needed, and chill.
Courtesy of River Cottage