Broad beans (also known as fava beans) are packed full of fibre. They contain vitamins K, folate and B6, as well as zinc, copper, iron and magnesium. To save time you can buy them frozen.
  Ingredients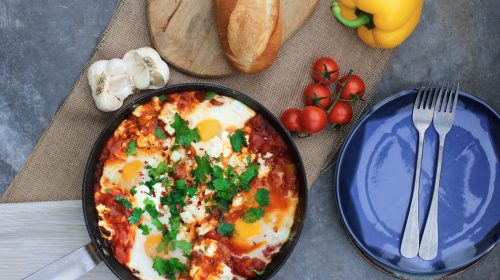 1 bunch asparagus spears
    200g sprouting broccoli
    2 tbsp olive oil
    2 spring onions, finely sliced
    2 tsp cumin seeds
    large pinch cayenne pepper, plus extra to serve                                                                                                                                                
    4 ripe tomatoes, chopped
    1 small pack parsley, finely chopped
    50g shelled peas
    50g podded broad beans
    4 large eggs
    50g pea shoots
    Greek yogurt to serve
Method
Trim or snap the woody ends of the asparagus and finely slice the spears, leaving the tips and about 2cm at the top intact.

Finely slice the broccoli in the same way, leaving the heads and about 2cm of stalk intact.

Heat the oil in a frying pan. Add the spring onions, sliced asparagus and sliced broccoli, and fry gently until the veg softens a little, then add the cumin seeds, cayenne, tomatoes (with their juices), parsley and plenty of seasoning, and stir.

Cover with a lid and cook for 5 mins to make a base sauce, then add the asparagus spears, broccoli heads, peas and broad beans, cover again and cook for 2 mins.

Make 4 dips in the mixture. Break an egg into each dip, arrange half the pea shoots around the eggs, season well, cover with a lid and cook until the egg whites are just set.

Serve with the rest of the pea shoots, a spoonful of yogurt and sprinkle over another pinch of cayenne, if you like.
Courtesy of Good Food Magazine