Chestnuts roasting on an open fire… There's no other ingredient half as evocative of the Festive Season than the humble chestnut. You can buy fresh chestnuts and cook them yourself or buy ready- cooked which usually come vacuum packed.
To make this vegetarian/vegan omit the chorizo and add Spanish paprika when you are frying the onions and vegetables, so that the spice is able to flavour the cooking oil and permeate through the dish. To make it a complete meal add a tin of drained and rinsed chickpeas.
Ingredients- Serves 4
4 tbsp olive oil
1 large Spanish onion, diced
1 medium carrot, diced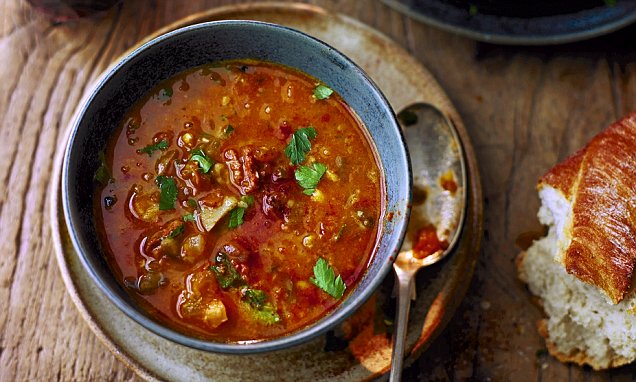 1 celery stick, thinly sliced
120g mild cooking chorizo, thin casing/skin removed and cut into 1cm cubes
2 garlic cloves, thinly sliced
1tsp ground cumin
1½tsp finely chopped fresh thyme leaves
2 small dried red chillies, crushed
2 tomatoes, fresh or tinned, roughly chopped
500g cooked, peeled chestnuts (fresh or vacuum-packed), roughly broken up
1 litre water
Sea salt and black pepper
Method
In a large saucepan, cook the chorizo until its fat is released and the sausage is cooked. Remove the chorizo with a slotted spoon to drain the oil. Wipe the pan clean and heat the olive oil over a medium heat.
Add the onion, carrot, celery, and a pinch of salt and fry for about 20 minutes, stirring occasionally, until everything caramelises and turns quite brown. This gives the soup a wonderfully rich colour and taste.
Now add the garlic, cumin, thyme and chilli and cook for one more minute, followed by the tomato and, after about two minutes, the chestnuts and chorizo.
Add the water, and simmer for about 10 minutes.
Remove from the heat and mash by hand (with a potato masher) until almost smooth but still with a little bit of texture. Season with salt and pepper, then serve.
Adapted from Moro: The Cookbook