The combined goodness of antioxidant-rich asparagus and protein-packed almonds makes this a superfood soup. Enjoy hot or chilled, just don't skimp on the lemon zest – it really lifts the creaminess and richness.
Serves 4
INGREDIENTS
100g flaked almonds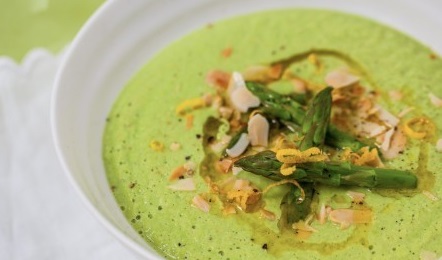 1 small onion, roughly diced
1 large leek, roughly diced
1 tsp olive oil
1 large garlic clove, roughly diced
2½ tsp fresh tarragon, chopped (or 1 tsp dried)
600g asparagus, trimmed
1¼ litres vegetable stock
2½ tsp fresh lemon juice
Salt and black pepper
For the topping
½ tsp lemon zest
½ tbsp extra virgin olive oil
METHOD
1 Toast 25g of the almonds in a dry, large saucepan and set aside for garnishing later.
2 In the same pan gently fry the onion and leek in ghee for 5 mins until softened, but not browned. Add the garlic and tarragon to the pan and fry for another minute.
3 Prepare the asparagus by snapping off the woody ends. Add the spears and remaining 75g almonds to the pan. Stir, add a pinch of salt and black pepper, then add the stock.
4 Simmer gently for 5 mins, with the lid on, until the asparagus is tender.
5 Remove from the heat and add the lemon juice. Blend carefully, in batches if necessary. Taste and adjust the seasoning.
Courtesy of Hemsley + Hemsley