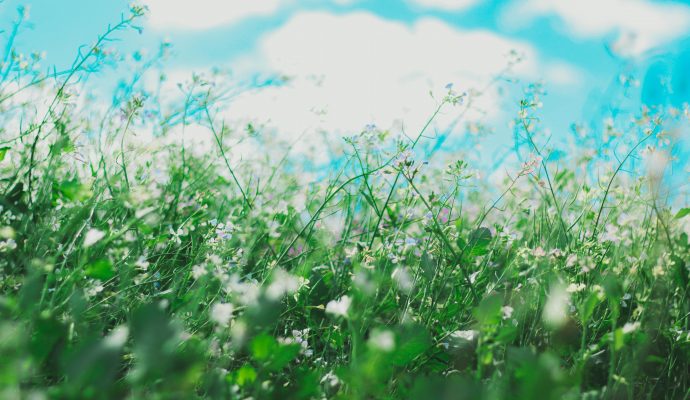 What makes spring and summer so beautiful for many people leads to misery for those who suffer from seasonal allergy symptoms. Freshly cut grass, blooming trees and flowers, and weeds release pollen, which can make life unbearable as you battle a runny nose, blocked nose, watery eyes, itchy eyes and uncontrollable sneezing attacks.
Hay fever symptoms are caused when our bodies release histamine in response to an allergen. The body over-reacts to substances like pollen, which are in fact harmless (but the immune system thinks they aren't), and produces antibodies to attack the substance. This is what causes the symptoms.
The great news is, that your lifestyle and what you eat can have a profound impact upon your symptoms! So read on to find out how you can take back control over your hay fever and better enjoy the season.
Lifestyle
A lack of sleep can make you more prone to allergies because it weakens your immune system.
Studies have shown that stress can exacerbate allergies. It's not exactly known why, but it's thought that stress hormones can ramp up an already exaggerated immune-system response to allergens. According to the British Institute for Allergy & Environmental Therapy, once stress is properly managed and relieved, the symptoms of hay fever improve. Meditation, exercise and eating healthily are all recognised ways of managing stress.
It's a good idea to have a shower after pollen exposure. Pollen and dust left on your skin and in your hair can make your symptoms worse.
Using a Neti pot during allergy season or after exposure to allergens can help relieve nasal congestion and flush out mucus. Once or twice daily, use warm filtered water or distilled water with a touch of salt to flush your nasal passages for relief.
Diet
Identify Food Sensitivities
Remove foods you are sensitive to, and increase foods that boost your immune system. The purpose of this is to lighten the overall burden on your immune system to allow it to function more optimally.
If you're not sure what your food sensitivities are, an elimination diet or food diary can help identify foods that worsen your allergies.
Foods and Drinks to Avoid
Dairy products like milk and cheese can thicken mucus, making blocked noses or ears much worse. Matured cheeses also tend to contain high levels of histamine. So, it's worth trying some alternatives to cow's milk, such as almond and rice milk and cashew nut based cheeses.
There are also foods that, while they are not high in histamine themselves, are 'histamine liberators' and can trigger your cells to release histamine. These include strawberries, pineapple, bananas, citrus fruits and egg whites.
Foods containing high levels of histamine should be avoided and include chocolate (sorry….); aged or preserved foods like vinegar, sauerkraut, yoghurt or canned fish; and wheat can stimulate an allergic reaction in those who suffer from grass pollen allergies.
Lots of caffeine can trigger histamine release which might accentuate your hay fever symptoms. Why not try anti-inflammatory green, white or nettle tea instead.
Beer, wine and liquor contain histamine, produced by yeast and bacteria during the fermentation process. Wine and beer also contain sulphites, another group of compounds known to provoke asthma and other allergy-like symptoms.
Refined sugar found in most cakes, sweets and ice cream can trigger a blood sugar spike which in turn will release histamine. For a natural sugar fix, choose fresh or dried fruit instead- in moderation as these can be high in natural sugars.
Eat Anti-Histamine Foods
Anti-histamine foods contain chemicals which can disrupt or block the histamine receptors in your immune system. By blocking these receptors, it can help to reduce allergy symptoms.
Research has found that raw local honey can help relieve hay fever symptoms in some people because it contains the local pollen that's causing your allergies. Do not give honey to young children under one due to the risk of listeria.
A fish a day could keep the sneezing away! There's some evidence that anti-inflammatory omega-3 fatty acids from oily fish could boost your allergy resistance because they help decrease the narrowing of airways that occurs some cases of seasonal allergies.
By filling your diet with fresh fruit and vegetables, you will have a steady supply of vitamin C, which will support your nasal lining and reduce the amount of histamine in the blood.
Foods that are rich in flavonoids such as quercetin, vitamin C or beta-carotene, can help to block histamine and reduce inflammation (see below).
Quercetin containing foods
Onions, garlic, goji berries, asparagus, all berry fruits, apples, kale, okra, peppers, plums and red grapes.
Beta carotene containing foods
Sweet potato, carrots, butternut squash, red and yellow peppers, apricots, peas, broccoli, dark leafy greens like kale, and romaine lettuce.
Vitamin C containing foods
Blackcurrants, blueberries, peppers, kale, collard leaves, broccoli, kiwis, mango, courgettes, and cauliflower.
Drinks to Include
Water– Stay hydrated. Drink eight to ten glasses of fresh water each day. If you get dehydrated, any mucus you have becomes much more difficult to expel. Staying hydrated on the other hand can help relieve irritation in your throat and also thin the mucous in your nasal passages, helping to unblock your nose.
Ginger tea– either slice up fresh ginger and steep in boiled water or buy ginger tea. Ginger has been shown to help reduce allergic reactions by lowering your body's IgE levels (the antibody involved in the specific immune reaction associated with hay fever).
Green tea is packed full of antioxidants, which are helpful for the immune system generally. It has also been proven to block one of the receptors involved in immune responses.
Peppermint tea contains menthol, a natural decongestant that can offer relief if your nose is congested or your sinuses are blocked.
There are also anti-histamine supporting supplements which have helped a lot of my long- suffering clients. If you'd like to talk more about this please contact me, I'd love to speak with you!